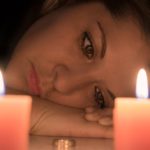 In my experience, some losses are easier to accept than others. For me, the death of my mother, though I still grieved, was not difficult to accept. She was 87 years old, had Alzheimer's, congestive heart failure, painful osteoarthritis, and she was ready to be done with it.  I found it easy to be fully present with her in the final days and weeks of her life, especially as she drew her last breath and let go. It was a beautiful experience that I am grateful to have had. I felt that I had finally gotten it right. I had finally been able to face death squarely without fear.
Not so with the death of my husband, Chuck. He was much younger and healthier, and his diagnosis of stage four lung cancer came as a shock to both of us. I never did fully face the fact that he was dying, at least not as squarely as with my mom. Even though I knew he was dying, and I was curled up in bed with him as he took his last breath, I had never been able to talk with him about his feelings about his impending death. And this was one of my biggest regrets. Another was that I didn't know about EFT and tapping yet and really wished I had.
In the last days of Chuck's life, we were fortunate to be taken care of at Hopewell House Hospice Hospital in Portland, Oregon. I felt such a sense of grace and peace there, but when I came home the morning after he died, I was raw and in shock. And that didn't lessen for over a year and half. Thankfully, I had joined a Bereavement Support Group and had learned this is normal. Bursts of grief come in waves, and it often feels like we are going backward when we are really on a spiral of healing; if we are actively mourning, that is.
There is a difference between grieving and mourning. Grief is the internal experience of the loss of our loved ones. Mourning is the outward expression of it, through crying, talking, writing, drawing, or whatever expressive outlet we might find. It is through mourning that we heal.
So, where does EFT tapping fit into this?  In order to heal we must move toward our grief through continued mourning, through the outward expression of our grief. Tapping gently connects us with our painful inner feelings and emotions, even the ones we may not be fully aware of, and brings them into our conscious awareness in a safe, healing way. Simultaneously holding them in our awareness while tapping on the body sends soothing signals to our brains and changes the stress response. This tells our brains to stop releasing the stress hormones that cause us to feel emotional pain and start releasing healthful hormones that relax us and help us feel calm and at peace.
Even though we don't heal the loss itself and will always miss our loved ones who have died, we can heal the painful emotions surrounding the loss. As we alleviate those, our focus shifts to the good memories and to gratitude for the love we shared. This healing is a process that occurs over time; a process that tapping helps.
When I learned about EFT and began tapping, my Bereavement Support Group friends could see how quickly it was changing me for the better. With EFT, my healing and personal growth have expanded exponentially, and I can only wonder how much it might have helped if I had learned about it sooner.
What impact might it have had on my ability to be more fully present with Chuck, to support him even more through his illness and dying process?  To help us both with all the overwhelming thoughts and emotions we were experiencing.  How much more quickly might I have been able to release the negative emotions I carried after he died? The guilt, regret, anger, remorse, fear?
If you are experiencing unresolved negative emotions related to the loss of your loved one, I urge you to consider the benefits of EFT, sooner rather than later. If you are willing, we can work together to help you if you are stuck in overwhelm, regret, guilt, fear of the future, loss of meaning in your life, anger at someone or something. Please contact me to take advantage of my gift to you of a free 60-minute consultation and let me show you how EFT can help. I can be reached by phone at 503-347-4974 or email: sherry@sherryruegerbanaka.com. I sincerely look forward to hearing from you soon.